ULTRON VERTICAL KILOMETER
Sta Cruz, Davao Del Sur, Philippines
August 18, 2018

5:30am Gunstart - 2:30 hours Cut-off
ULTRON Vertical Kilometer is a 5.2km vertical run, starts at 30 meters and finishes at 1,040 meters asl at the summit of Mt. Loay, with more than 1,000+ meters of elevation gain for only 2 hours and 30mins cut-off. This year's Ultron Vertical km has 87 starters and 86 official finishers.
Thank you so much Father for thy gift of strength, knowledge and understanding. Thank you so much for making the 1st ULTRON Vertical Kilometer race in Mindanao a huge success. Thank you so much to all my friends and sponsors who supported this race -Tourism and LGU Sta Cruz, ULTRON Sportswear Asia Pacific in Malaysia, DOLE Food Company, TAGAKAN Purselas, and Trail Junkie Philippines. And to my crew and marshals for this race -Team Mananap and Team Brad, thank you so much and congratulations guys! And to all participants all over Philippines and outside the country -from United Kingdom, USA, Manila, Legaspi, Laguna, Samar, Mati, Maragusan, Nabunturan, Compostela Valley, Tagum, Panabo, Davao, Sta Cruz, Digos, General Santos, Kidapawan, Tacurong, and Cotabato City, daghang salamat sa inyong suporta and congratulations!!
Till next V2S races! Cheers! ;)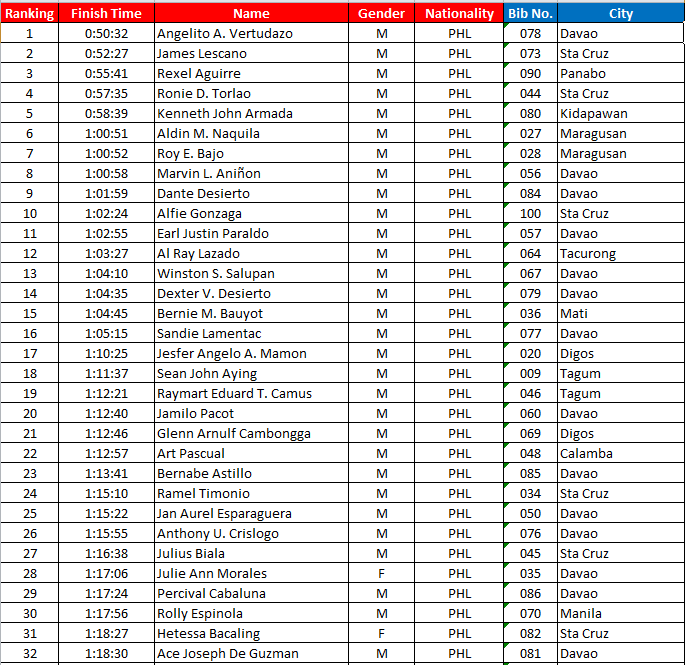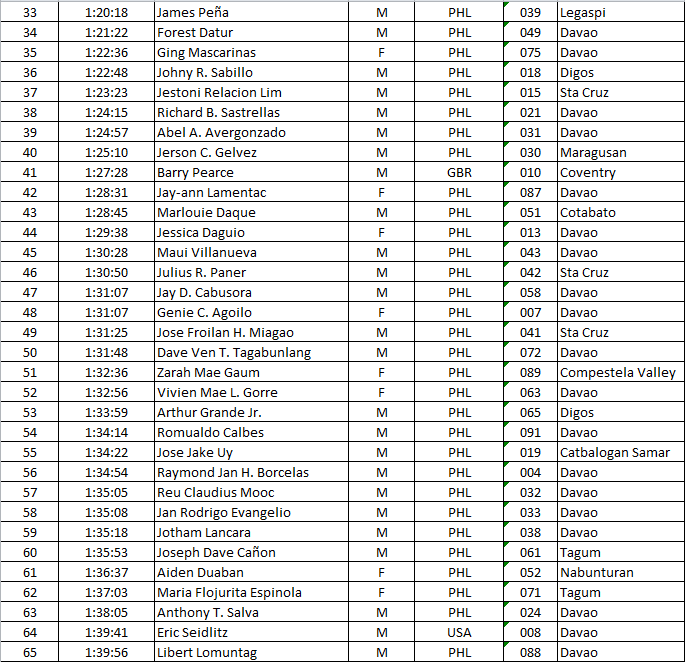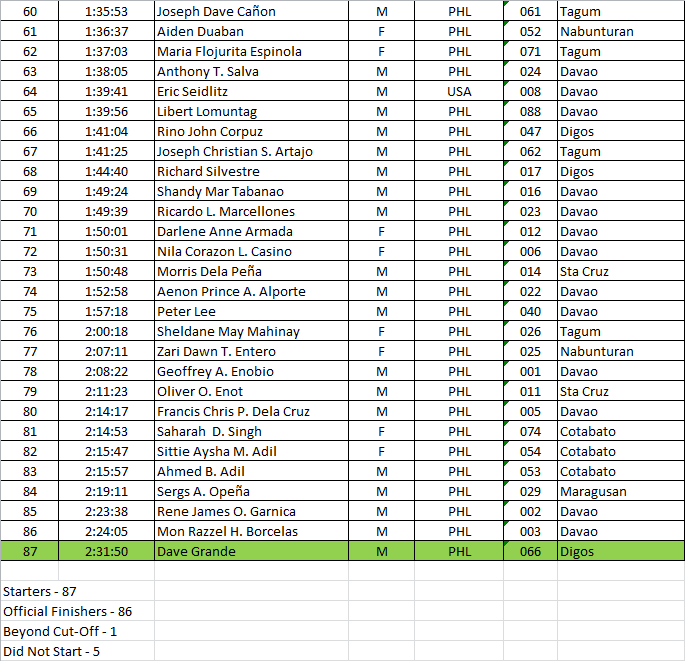 MT. HAMIGUITAN TRAIL RACE
San Isidro, Davao Oriental, Philippines
October 27, 2018
The 3rd edition of Mt. Hamiguitan Trail Race was a huge success! For the knowledge of everyone, Mt. Hamiguitan is the only mountain in Philippines under UNESCO World Heritage Site, it is known for its huge Pigmy Forest and home of Philippines Eagle Pamana. We have only two (2) categories for this year's Mt. Hamiguitan Trail Race, 50k and 25k, with maximum of 100 runners per category. We have total of 160 runners this year -100 runners for 25k with 93% finisher rate and 60 runners only for 50k with 61% finisher rate or 35 official finishers.
Thank you so much to all who joined this year's edition, we have from United Kingdom and Switzerland, and all over Philippines - from Luzon, Manila, Mandaluyong, Taguig, Paranague, Olangapo, Calamba, Sta Rosa, and from Guimaras island in Visayas, and from Mindanao, we have from Cagayan De Oro, Malaybalay, Butuan, Bayugan, San Francisco, Nabunturan, Compostela Valley, Dujali, Tagum, Banay-Banay, Lupon, San Isidro, Mati, Panabo, Carmen, Davao, Sta Cruz, Digos, Malita, Tupi and Cotabato City. Thank you so much guys and congratulations!
Our heartfelt appreciation to all who supported this race, LGU San Isidro Honorable Mayor Ms. Justina Yu and Tourism Sir Antonio Edquila, and DOT XI thank you so much! To all rescue, medics, PNP, volunteers and crew, daghang salamat! And to all sponsors -Nature Spring Water, PEPSI Cola, H&Y Company, Tagakan Purselas, Warp & Woof Running Sandals, Trail Junkie Cap, Tadeco Sweet Bananas, and ULTRON International Clothing, thank you so much for the unwavering your support.
To V2S International partners who recognized this race abroad - International Trail Running Association (ITRA), International Association of Ultrarunners (IAU) and Ultra Trail du Mont Blanc (UTMB) in Europe and American Trail Running Association (ATRA) in Colorado, USA thank you so much to all your support!!
And to all the runners and teams who were part of this year's Mt. Hamiguitan Trail Race, thank you so much for always supporting Vertical To Sky Mountain Races in Philippines. Balik-balik and kodus guys!
Till next race! Cheers! ;)